Ferrers Gallery Exhibitions 2022
'Medley' – April 29th – July 3rd
A heady mix of handmade British craftsmanship spanning various mediums from ceramics and glass to wire, wood and wool.
'Escape' – July 8th – 25th September
Let our summer exhibition transport you to the coast and beyond, with memories of heydays and holidays.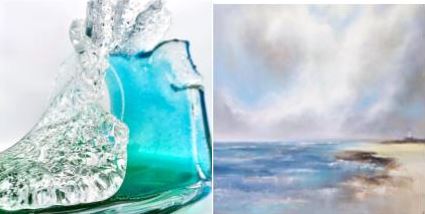 'Twenty' – 1st October – 31st October
Owner Rachael Chambers celebrates twenty years at Ferrers Gallery; sharing stories of twenty key artists and their relationships with the gallery over this time.
'Enchanted' – 1st November – 24th December
Be enchanted by our Christmas exhibition which promises to bring together a magical array of handmade British Craftsmanship.
Artisan Show 6th-7th August 2022
Staunton Harold's Artisan Show will present some of the finest craft and artisanal pieces in Leicestershire, Derbyshire and beyond and will take place in the beautiful grounds of the Georgian mansion.
There will be a range of artisans and makers carefully selected to showcase British craftmanship, talent and diversity.
If you would like to be considered for a pitch at the artisan show or any other relating information please contact stauntonharoldartisans@mail.com 
6th August 10am-4pm
7th August 10am-4pm
Admission £4.00
Children aged under 12 -free
Parking included
To obtain tickets to this event please use the link below
WALKING THROUGH TIME
Leicestershire County Council have put together a collection of 3 walks around the Staunton Harold Estate which is available to view and download here.