Ferrers Gallery
The Ferrers Gallery promotes the best in BRITISH Craftsmanship. Ceramics, glass, paintings, prints, textiles, sculpture and jewellery are all showcased over three floors in a stunning grade II listed building that was once a granary.
The Ferrers Gallery hosts a programme of regularly changing exhibitions as well as a permanent display of work by local and regional designer makers. The gallery is dedicated to showcasing unique, handmade and high quality crafts by over 100 leading and emerging British artists and makers.
You can also find a selection of pieces on the gallery's on-line shop – www.ferrersgallery.co.uk
Entry is free.
Open Tuesday to Sunday 11 am – 4pm and bank holidays, all year round, expect between Christmas and New Year.
'Escape' – July 8th – 25th September
Let our summer exhibition transport you to the coast and beyond, with memories of heydays and holidays.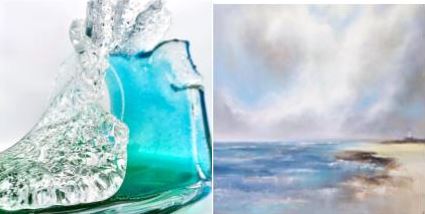 'Twenty' – 1st October – 31st October
Owner Rachael Chambers celebrates twenty years at Ferrers Gallery; sharing stories of twenty key artists and their relationships with the gallery over this time.
'Enchanted' – 1st November – 24th December
Be enchanted by our Christmas exhibition which promises to bring together a magical array of handmade British Craftsmanship.